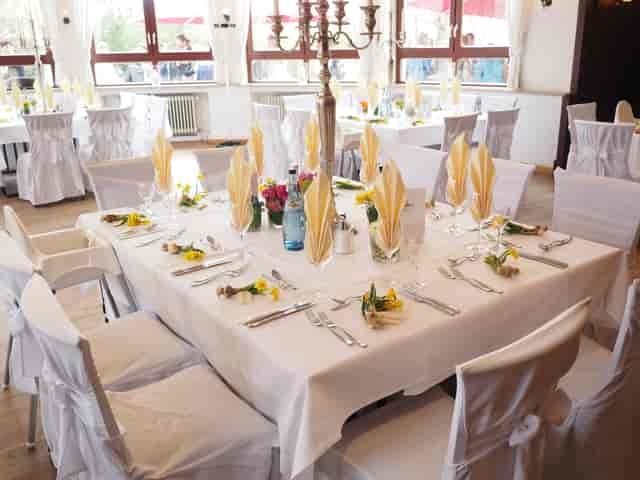 Catering
Event Catering
European Caterers Ltd. offers a complete range of services in your venue of choice; a field, private residence, park, back yard, tent, rental property or ranch. Our professional staff allows us to prepare and serve your food fresh, creating a beautiful and delicious presentation.
Events
Whether you're planning a backyard Hawaiian Luau, an open house cocktail party or an elegant anniversary celebration; European Caterers can provide the expertise and skill necessary to accomplish a successful event.
Rentals of tables, chairs, china and more can be arranged for your convenience. Complete beverage services are available. If you're looking for an event location, please let us know.
The experienced wedding consultants at European Catering will be glad to share with you the secrets to a fun and successful wedding reception.

Of course, one of the first things people remember about a wedding is the food. Our list of satisfied clients attests to our success here. We will be glad to suggest popular menu items for your reception and to schedule a menu tasting for you.

European Caterers can provide or work with the rental company of your choice for all the rental needs for your reception. Tables, chairs, linens, china, glassware are just a few of the items we have available and will deliver and set them up for you as well. Need your chairs moved from the ceremony site to the dining area after the ceremony? No problem; our team of professionals will take care of it. 

European Caterers has built a team of catering professionals to take care of you and your guests throughout your reception. Our experienced team has a personal interest in the success of our company and therefore has a personal interest in the success of your event.
Picnics are one of our specialties. We offer one stop shopping for all your picnic needs.
Corporate/ Non Profit Events
Are you planning an event for the whole company, a quarterly lunch, a safety meeting or a holiday party? European Caterers will make it easy for you. Our catering team will customize a menu and set of services to fit your needs and your budget. No need to run all over town to order all the necessities for your event. We offer a bundled price for your rental needs (plates, silverware, glassware and bar set up). If you are a non profit company ask about our special discounted pricing.
Executive Meeting Services
Do You need a continental breakfast with juice and coffee for a 6 AM executive meeting, a last minute lunch for your audit team, a hot dinner for the late shift? The professionals at European Caterers will take care of it! We'll deliver and set up your meal in your conference room or office and provide everything you need for service including plates and utensils.
Our Services
European Catering Ltd. has been cooking with fresh, locally grown and healthy ingredients for years. We strive to share this experience with you by preparing delicious and healthy meals for you, your guest and your family.
Here's a list of some of the rentals we offer. If an item is not listed, please give us a call.

• Tables & Chairs
• Linen
• Dinnerware: Silverware, Glass, China
• Chocolate Fountains
• Bar Set Up & Design
* All service ware for buffet, family style or plated dinners
Convenient Payment Options
European Caterers offers convenient 30-day payment terms to our corporate clients. In addition, major credit cards including Visa, MasterCard & American Express are accepted for payment.

Please call 970-920-4262 or email Steve and his team if you would like us to email a price list to you with menu options.